Emory University Annual Report 2017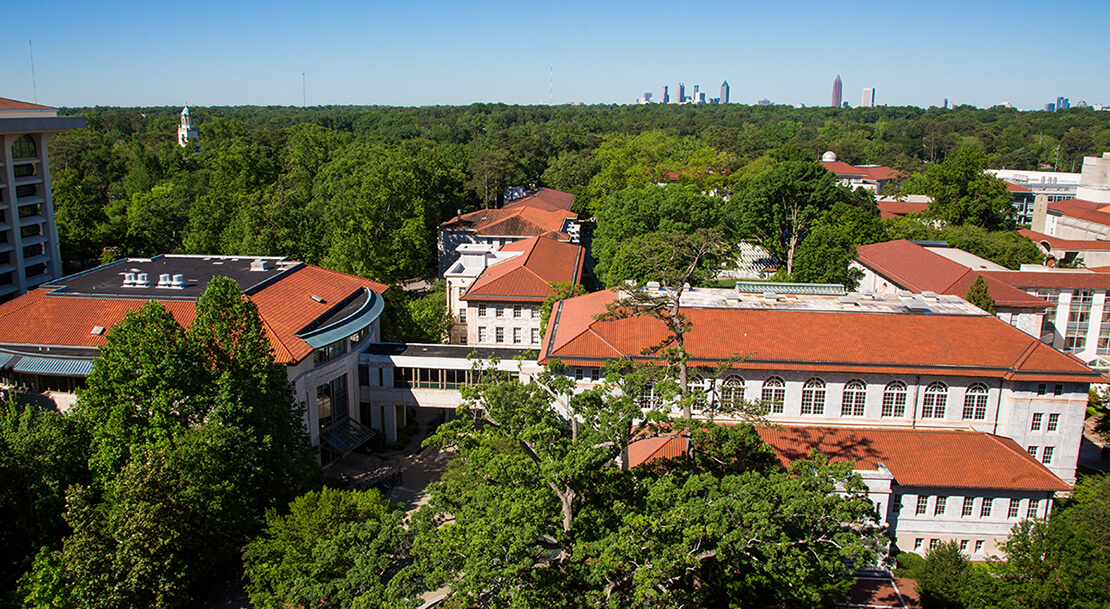 Letter from President Claire E. Sterk

Transforming Emory, Transforming the World

Emory strives to advance the common good through research, teaching, and service. The extraordinary energy of our talented community propels our work forward. Though our areas of expertise vary, we find shared purpose in our mission to "create, preserve, teach, and apply knowledge in the service of humanity."

In fulfilling that mission, Emory faculty, staff, and students commit to seeking a more just and sustainable future for all. I am proud of everything we have accomplished together this past year, and I eagerly anticipate the advances that lie just around the corner.

In this report, you will find stories of our impact in the classroom, in the clinic, in Atlanta, and in the world — a slice of the transformative contributions that the people of Emory make every day.

Read more
Creating and Preserving Knowledge
Discovery feeds a never-ending quest for knowledge.
From cutting-edge medical breakthroughs and scientific advancements to groundbreaking scholarship and scholarly writing that attracts national headlines, Emory thrives on discovery.
And those discoveries are happening everywhere. From Emory's Stuart A. Rose Manuscript, Archives, and Rare Book Library, where students can peruse a collection of personal letters written by former US President Barack Obama, to the Emory Vaccine Center, where researchers are exploring how frog slime can kill the flu virus, our faculty and students are deeply engaged in an ever-expanding quest for new insight and knowledge.
That journey helps create a rich intellectual arena, fed by faculty expertise and the engagement of promising student talent. At Emory, discovery finds many creative pathways, from using imaging technology to reconstruct the brain architecture of an extinct tiger to research into how governments confront the challenge of contagious diseases or how hormonal changes help fathers bond with toddlers.
It's top-flight scholarship that increasingly claims international attention, receiving some of the world's most prestigious research awards, fellowships, and grants, which in turn nurture advances both enlightening and exciting.
Educating the Next Generation
Hands-on learning transforms the student experience.
Working in a laboratory, an Emory undergraduate strives to discover if blackberries hold the key to battling antibiotic-resistant infections — hands-on research that builds upon the findings of his faculty mentor.
Across campus, Emory students learn about global security and immigration challenges from the director of field operations for US Customs and Border Protections in Atlanta — part of a course that mirrors dialogue now taking place in the nation's capital.
At Goizueta Business School, a $3.5 million endowment from the Delta Air Lines Foundation breathes life into an experiential peer-to-peer education initiative that will provide students the coaching and opportunity to grow as leaders.
Through challenging courses, service-based-learning opportunities, and firsthand community engagement, Emory students are finding exciting new pathways to knowledge — the hallmark of a top liberal arts research university.
Working with the guidance of a world-class team of faculty mentors and researchers, our students are not only advancing knowledge; they're already making their mark on the world.
Through innovative research, patient care, and teaching, Emory is changing the face of health care.
Across the health sciences, Emory is a game changer, pioneering new ways to prevent and treat diseases and leading the way for the next generation of health care professionals while providing the highest quality in clinical care.
Advancing a mission built upon excellence, caring, and integrity, Emory is addressing some of the world's most pressing health care challenges. In 2017, that meant life-saving breakthroughs in cancer care, a landmark study in stroke treatment, promising insights into reversing the ravages of Huntington's disease, and a novel discovery into how fire ant venom may be used to help treat psoriasis.
Today, these kinds of research advances are finding more support than ever before. During the 2016–2017 fiscal year, Emory researchers received a record $628 million in external funding — the largest amount in the history of the university.
The result? Research projects are changing the outcomes for diseases, improving drug regimens, providing insight into the impact of environmental toxins, and unraveling the mysteries of neuropsychiatric conditions.
With life-changing research and life-saving care, Emory responds to medical challenges felt across the globe.
By meeting head-on the challenges of today and tomorrow, Emory is changing lives.
Discovery, inquiry, and creating new knowledge are academic drivers at Emory, where students and faculty are challenged to engage with some of the world's toughest questions in novel ways every day.
But it's what they do with that knowledge, how they rise to those challenges, that makes a difference. Even as our researchers and budding scholars are exploring questions and discovering solutions, they are pushing boundaries and finding answers to real-world problems.
With a strong tradition of community engagement and service-based learning, Emory is reaching out to neighborhoods, cities, communities, and countries around the world, making an impact and making a difference.
Whether demonstrating new green technologies on campus, reaching out to help with hurricane relief, developing programs that teach compassion to doctors across North America, connecting faith communities through interfaith dialogues, confronting the opioid addiction crisis, or working to eliminate human trafficking, Emory works tirelessly to make a difference.
With a track record of courageous, dogged research, Emory leads the way in meeting the world's challenges.
You can't stop infectious diseases, species extinction, or global climate change at a border.
That's why Emory scholars and students are actively reaching beyond them in search of breakthrough solutions to some of the world's toughest challenges in medicine, public health, social policies, and the environment.
Hundreds of Emory faculty conduct research with impact around the world, in the sciences and the humanities. And with research partners in more than 159 countries, our faculty are collaborating on topics with global reach, from HIV and Ebola to threats facing the pollinators that maintain our food supplies.
Whether solving for pathogen outbreaks and pervasive diseases, the health effects of global warming, the impact of shrinking primate populations, or sustainable economic strategies, Emory is engaged in work that matters.
That work places us at the epicenter of research and public service initiatives being felt everywhere, every day. Little wonder that our graduate and undergraduate students view the world as their classroom. With experience gained from study abroad exchanges and hands-on field research opportunities, they are helping chart the course for an increasingly interconnected world.
Through engaged scholarship, public service, and civic collaborations, Emory has always been connected to Atlanta.
But this year the university took that relationship a step further, strengthening its longstanding partnership with the community by seeking official annexation into the City of Atlanta.
In December 2017, the Atlanta City Council formally approved the move, which went into effect January 1, 2018, launching a new stage in the historic relationship and a renewed commitment to "serving the common good in the greater metropolitan area and beyond," said Emory President Claire E. Sterk.
It's a relationship that has only grown stronger over the years. Today, Emory enjoys productive partnerships with other academic research institutions and engagement with the burgeoning Georgia film industry, Atlanta's professional sports teams, regional business powerhouses and fledging startups, the city's artistic and social service communities, a city-wide science festival, and far-reaching scholarship into the perils of climate change.
An economic engine for the region, Emory has — through its research, community service, and health care — generated millions of dollars in local and statewide benefits. Our impact is felt by industries, neighborhoods, and individuals as we help solve some of today's biggest challenges.
The year 2017 brought remarkable milestones for Emory.
From the inauguration of President Claire E. Sterk, the first woman to lead the university, to the opening of the new Emory University Hospital Tower on Clifton Road, the first major expansion of the hospital in years, it's been a transformative year of growth and change.
New thinking was a guaranteed byproduct as Emory welcomed the appointments of top leaders, including a new provost, executive vice president for business and administration, and a Board of Trustees chair. In addition, new deans were named for both Emory College of Arts and Sciences and Emory School of Medicine.
At the same time, the university embarked on the next critical phase of the strategic planning process, designed to align Emory's strengths and opportunities in advancing its vision and mission for the next decade — in this process charting an exciting course for the future.
In fact, take a stroll through the heart of Emory's Atlanta campus, and you'll see the future taking shape in a sprawling new Campus Life Center. Last year's demolition of the Dobbs University Center has made way for a three-story complex that promises to usher in a new age of community building, collaboration, and connection for Emory students.
But even as the campus looks to the future, last year was also a time for acknowledging just how far we've come.
The Emory School of Law celebrated its 100th anniversary with a formal gala that featured former US President Bill Clinton and former US senator and Emory Law alumnus Sam Nunn. And a century after Eléonore Raoul sneaked into the law school, becoming one of the university's first female graduates, Emory commemorated the lives of trailblazing women with "100 Years of Women of Excellence."