Introducing Ravi Thadhani, Emory's Next EVPHA
---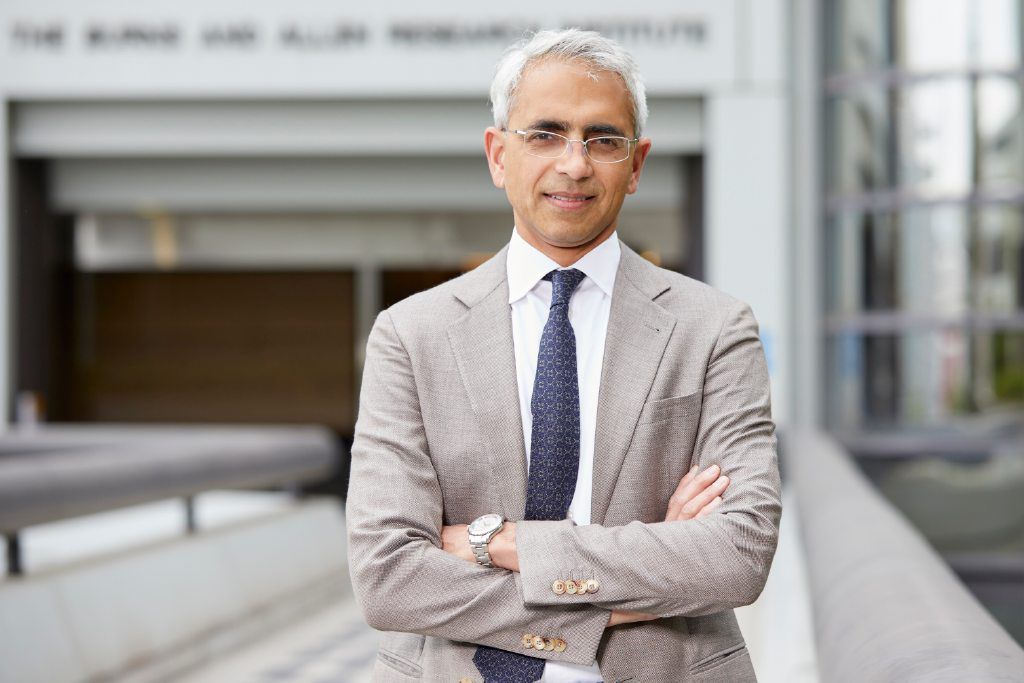 Dear Emory Community, 
I'm thrilled to announce that Ravi I. Thadhani, MD, MPH, will be Emory's next executive vice president for health affairs (EVPHA), effective Jan. 1, 2023. Dr. Thadhani will also serve as executive director of Emory's Woodruff Health Sciences Center (WHSC) and vice chair of the Emory Healthcare Board of Directors.
Dr. Thadhani is currently the chief academic officer (CAO) and dean for faculty affairs at Mass General Brigham and professor of medicine at Harvard Medical School. As CAO and dean, he oversees a $2.3 billion research enterprise, graduate medical education, and continuing professional development. 
I want to thank the Search Advisory Committee for their thoughtful consideration in evaluating candidates for this critical role. During this international search, I came to learn, firsthand, just how deeply Dr. Thadhani understands the profound mission, impact, and potential of the WHSC. He is uniquely prepared to take the health sciences and health care at Emory to a new, extraordinary level. He is a dynamic leader who has committed his life to serving patients and families through groundbreaking education, health care, clinical care, and research. One example is a recent study he co-authored, which tested affordable preeclampsia therapeutics that may have the potential to reduce maternal mortality, particularly in underresourced regions.
As EVPHA, Dr. Thadhani will oversee the WHSC, which comprises the schools of medicine, public health, and nursing; Winship Cancer Institute; Emory National Primate Research Center; Emory Global Health Institute; Goizueta Institute @ Emory Brain Health; Emory Global Diabetes Research Center; and Emory Healthcare. 
In his role as EVPHA and vice chair of the Emory Healthcare Board of Directors, Dr. Thadhani will provide oversight for Emory Healthcare's CEO and leadership team, ensuring the delivery of high-quality, patient-centered care focused on supporting the health and well-being of communities across Georgia. 
Here are a few highlights from Dr. Thadhani's distinguished career:
More than 30 years of patient care experience as a general and specialized internal medicine physician.

More than 25 years of experience in executive academic medical administration and research.

Previously served as vice dean of research and graduate research education at Cedars-Sinai Medical Center in Los Angeles (2017-2019), associate director of research at Mass General Brigham (2012-2017), and chief of nephrology at Massachusetts General Hospital (2013-2017).

Managed a successful research laboratory for approximately 25 years with continuous federal funding, employing data managers, operations directors, statisticians, nurses, research assistants, and laboratory technicians.

More than 300 publications, including articles in top medical journals — New England Journal of Medicine, Journal of the American Medical Association, and Journal of the American Society of Nephrology.

Received several national awards, including the Harold Amos Faculty Diversity Award from Harvard Medical School — the highest award for fostering diversity at Harvard Medical School; Alumni Award of Merit from the Harvard T.H. Chan School of Public Health; and the John P. Peters Award from the American Society of Nephrology — for mentorship and scientific achievements.
If you'd like to learn more about Dr. Thadhani's life, research, and experiences, I suggest reading his illuminating Q&A in the Emory News Center.
I am deeply grateful to Dr. David Stephens for his service as interim EVPHA. He has provided steady leadership and will continue to help us navigate this period of transition. In January, Dr. Stephens will return to his role as vice president for research in the WHSC and chair of the Department of Medicine in the Emory School of Medicine.
Emory is poised to make tremendous contributions and elevate our outstanding work in the health sciences and health care. I know that there have been many challenges to overcome in recent months, particularly for Emory physicians, nurses, and frontline medical staff. Dr. Thadhani understands this and is ready to listen and develop solutions from the moment he arrives. His job is to empower this community and to provide vision and guidance as we seize opportunities for the future. I can't wait for him to get started.
Sincerely,
Gregory L. Fenves
President 
Share This Story