Commencement Weekend
---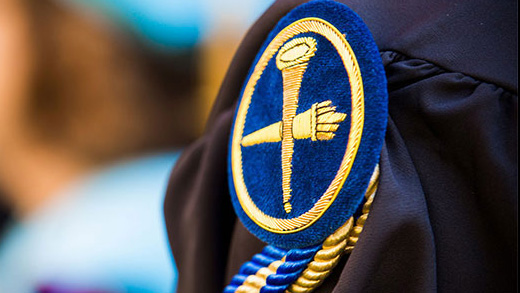 Dear Emory Community,
Commencement took place this past weekend at the Georgia World Congress Center, and it was unforgettable. After a year that tested us in every way, we finally joined together—both in person and online—to celebrate the triumphs of our graduates.
I could feel the excitement of our community at each of the 15 ceremonies. Parents, grandparents, family members, and friends came to downtown Atlanta with joy and pride in the accomplishments of their Emory grads. My favorite part of the weekend was seeing Emory classmates getting together in person for the first time in a year. There were so many moving scenes of old friends hugging each other, laughing, and smiling—relieved to be reunited with the people who made Emory feel like home.
Overall, 11,000 Emory graduates, families, and friends attended the ceremonies, and 30,000 tuned in remotely from around the world. Dr. Anthony Fauci gave an outstanding commencement address. I also was fortunate to hear several of the class orators who delivered beautifully written speeches.
And one of the highlights for me was the special ceremony for the Emory Class of 2020. Over 2,900 watched online while 645 graduates and 1,337 of their guests came back to Atlanta to, finally, hear their names called as graduates of Emory University. Seeing these recent alumni proudly cross the stage said it all—nothing could stop them from achieving their goals and dreams.
I want to thank all of the Emory staff, volunteers, and faculty who went above and beyond to navigate the complicated logistics of the events and deliver a wonderful experience for our 11,000 attendees. I know it took the efforts of a coalition of dedicated Emory community members who, for months, prepared and planned, and then over the weekend, worked around the clock to bring it all together. I'm grateful to everyone who gave of themselves so that our graduates could finish their time at Emory with a profound experience.
I have been in higher education for over 35 years—attending graduation ceremonies annually—but it wasn't until this last year that I truly understood the importance of commencement to our students and their families. To lose such a vibrant tradition last year was heartbreaking—to bring it back this year was uplifting in the deepest sense of the word. It is what we needed and, most importantly, it gave our graduates the send-off that they so richly deserved.
I hope you enjoy the summer months, and I look forward to seeing many of you again on campus in the fall.
Sincerely,
Gregory L. Fenves
President
Share This Story