2O36 Campaign Kick-Off
---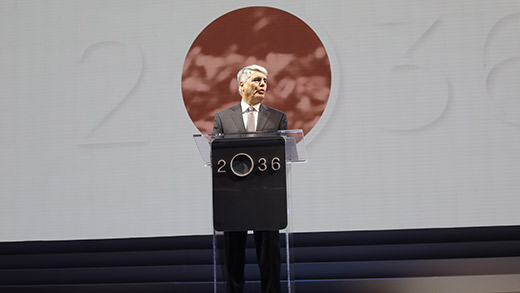 About a year and a half ago, I saw this Quad for the first time.
It was early in the morning, it was quiet, and few students were out. I remember looking at the Georgia marble buildings, the beautiful trees, and I had a feeling of being home.
Seeing you here now, I feel even more inspired by my new home at Emory because of the dedication I've seen from our students, faculty, staff, alumni, and friends — and because you, Emory's greatest champions, are here.
Even before Carmel and I moved to Atlanta in 2020, I began studying Emory's history and one name kept coming up: President Jim Laney.
His accomplishments, his character, his ambition, his "education of the heart" transformed this university. I've had the honor of getting to know President Laney and I can say his ambition for Emory remains undiminished. In fact, it is even stronger now than in 1979. 
As you know, in that year Robert W. Woodruff and his brother, George provided to Emory the single largest philanthropic investment in an American university at the time. This gift, as President Laney wrote in a letter to Mr. Woodruff, would enable "Emory to make a quantum jump—to become one of the great universities of the world." 
In that same letter, President Laney pledged the gift would be used to "insure quality and greatness"—and that's exactly what happened. Emory recruited exceptional faculty and students through the Woodruff endowed professorships and the Woodruff Scholars program, and so much more.
It's no coincidence that 15 years after the gift Emory was invited to join a coalition of the very top research universities in the nation—the AAU—solidifying Emory's reputation as an outstanding research university grounded in the liberal arts and dedicated to the "education of the heart."
One remarkable gift and 15 years of investing in the immense potential of the people at this institution—that's what it took for Emory to write one of the most storied chapters in our history.
What's happened since that time?
Emory students and faculty have exceled. Emory alumni lead companies, they serve through nonprofit organizations and across many levels of government, and they are acclaimed artists, writers, and performers. Our health care system has seen immense growth, providing the people of Georgia with the best clinical care and innovative medical research while training the next generation of health care professionals.
Students are applying to Emory in ever-increasing numbers, and we have been breaking our own records in attracting research funding based on the ideas of our faculty, scientists, and researchers.
The greatness that President Laney spoke of is an undeniable part of who we are at Emory.
But in my brief time here, I must say, there's something that's troubled me: It's how we share our accomplishments and our story.
I can't tell you how many times I've heard Emory described as a "hidden gem"—as though that's a good thing. 
There is nothing hidden about Emory's impact.
So, what's needed now is for Emory to share its pride and purpose on a whole new level—here in Atlanta, around the world, and as you can see, we're already doing it in New York City!
Emory is a world-class institution—period. And that's why you are here tonight—because you know that, and because you are ready to write a new chapter that leaves no doubt about our greatness.
And it starts with the 2O36 campaign, which is named for the year of Emory's 200th anniversary.
2O36 is only 15 years away, and I know, with your commitment, we will transform Emory into a research university that will have no equal.
That's what the 2O36 Campaign is all about: forging partnerships with great purpose and bold ambition to invest in our people who will shape our destiny, while broadcasting the Emory story with pride, showing all our university can do for society. 
Student Flourishing
Our university: It starts with students.
Emory is the top choice for thousands of undergraduate, graduate, and professional students each year.
For Emory's Class of 2025, here for their first semester— learning in the buildings around you—we had the largest applicant pool in our history. They're an incredibly talented and diverse class of students with tremendous promise.
In higher education, I hear a lot about student success, which is usually painted narrowly as success in the classroom defined by the ultimate achievement: earning a degree.
But at Emory, with our outstanding students, we need to set our sights even higher—by providing an education that prepares students to flourish for a lifetime of engagement, integrity, creativity, and service, and what may be multiple careers.
With the 2O36 Campaign, Emory will move beyond student success to student flourishing.
For our students to flourish we must first recognize that they come to Emory from many backgrounds and life experiences. It starts with meeting each student where they are when they arrive on campus, supporting them as they explore their dreams with a compassionate and inclusive environment.  
Then it's the job of our faculty and staff to provide guidance as students choose their academic pathways and find their purpose, helping them become resilient so they can overcome anything that stands in their way—able to flourish no matter the circumstances.
So, what does that look like in practical terms? 
It means taking Emory's liberal arts education to another level—teaching our students to think, communicate, create, and engage with our democracy.
It means extending learning beyond the classroom—to the lab and studio, and with businesses, non-profits, religious institutions, and more throughout the city of Atlanta and beyond.
It means reimagining how we prepare our students for careers—connecting them with amazing companies and community organizations for internships and then full-time positions.
It means doubling down on supporting student mental health and well-being— recognizing the challenges that students face inside and outside of the classroom and providing them with the resources and skills to thrive. 
It means working together with benefactors like you to increase the number of endowed scholarships so that cost doesn't prevent a top student from coming to Emory.
All of this sounds very big. And it is. But it's also deeply personal. It comes down to people—individual stories.
Elizabeth Prelogar graduated summa cum laude from Emory. She studied English and Russian and wrote for the Wheel. She also had an endowed scholarship that provided vital financial aid for her education. 
She went on to clerk for two U.S. Supreme Court Justices and was just nominated as solicitor general for the Department of Justice. 
And today there is a new generation of Emory students who are thriving because of endowed scholarships, including Maya Risin, a first-year student from Atlanta who studied veterinary medicine during her summers in high school and plans to major in biology on her way to becoming a vet.
There's senior Greg Kimmerer, who as an undergraduate is conducting graduate-level DNA research, earning him the prestigious Goldwater Scholarship.
It is philanthropy that brings these incredible students to Emory so they can flourish with a distinctive college education and experience that prepares them for a lifetime of accomplishment and service. 
And who is behind the education of students like Maya and Greg?
Faculty Eminence
Of course, it's our faculty.
In Greg's case, it was assistant professor Leila Rieder who saw what he could do as a first-year student, inviting him to be a member of her biology lab. And there are thousands of Emory faculty members shaping the lives of our students, while conducting research, publishing, creating, inventing, and healing.   
Faculty eminence is the foundation of our future.
We want an exceptionally talented, diverse faculty—high achievers who have their choice among the very best universities.
We want these faculty to make Emory their home.
What are they looking for?
Top faculty choose a university that will provide the resources needed for groundbreaking research as they teach and collaborate with the finest students at all levels. They are seeking an inclusive campus where individuals are valued for their perspectives and contributions. They want other eminent faculty to partner with, recognition for their accomplishments, and of course, competitive compensation.
However, at Emory there's a problem: Our faculty endowments are too few and woefully underfunded. It is these endowments that enable Emory to bring great faculty ideas to life, celebrate eminence and breakthroughs, and elevate our professors.
I'm not exaggerating when I say, it's remarkable that Emory has such an extraordinary faculty given the state of our endowed professorships. It reminds me of that "hidden gem" description—another limiting distinction I'm not satisfied with. 
The good news, though, is the 2O36 Campaign will change this, putting us on a new course to recruit and retain the very best faculty. 
The campaign will add 154 new faculty endowments—doubling the current number— and putting us on par with our peers.
It's about recruiting that professor who has such an impressive imagination and intellect, such a deep sense of purpose, that they without a doubt belong at Emory.
Think of Jericho Brown—Pulitzer Prize-winning poet and director of Emory's creative writing program, whose poetry captures the pathos, pain, and beauty of our time.
Think of Rafi Ahmed— a member of the National Academy of Sciences, an acclaimed immunologist, and director of the Emory Vaccine Center, who has continually made life-saving contributions in vaccine research and cancer immunotherapy. 
Think of Kali Gross—a Carnegie Fellow who has published award-winning books that explore the experiences of Black women … shedding light on powerful narratives that have been overlooked in our nation.
I might add, these faculty members all have endowed professorships, and they represent the level of scholarly accomplishment we are looking to dramatically increase with this campaign. 
These faculty members produce knowledge that serves humanity.
Research Excellence
I love Emory's motto: "The wise heart seeks knowledge."
And that word—"heart"— describes us best.
For Emory faculty, students, and staff, it's not enough to simply excel. Achievement is measured by how many people your teaching, research, and service touched along the way. Did it make a difference in someone's life? 
We are the university that launched the Trans-Atlantic Slave Trade Database, enabling scholars to understand the horrors of slavery and its effects on society today. We are the university that discovered two drugs that revolutionized HIV treatment, improving the lives of millions of people. And we are the university that treated the nation's first Ebola patients. 
So this year, it's no surprise that Emory set a record for research funding—bolstered by our inspiring contributions in navigating the COVID-19 pandemic. 
From our frontline health care workers and scientists who helped develop vaccines and treatments, including a breakthrough pill, to the public health researchers who provided critical science and guidance, to the experts who combatted entrenched health disparities—in every way, Emory stepped up.
This pandemic showed what we're capable of! 
Humanity is facing enormous challenges in the future, and I want Emory to unlock the power of our distinctive ethos and expertise across our schools and units so we have a leading role in developing the solutions.
Imagine bringing together scholars in the humanities, social sciences, law, and theology to accelerate progress in the arc towards social and racial justice. 
Imagine training our immune systems to recognize tumors and eliminate them without drugs. 
Imagine understanding the elusive diseases that afflict the brain so we have personalized treatments for Alzheimer's, Parkinson's, and depression. 
Imagine a new generation of artificial intelligence that can solve human problems—not make them.
This is the kind of research that is taking place at Emory every day—in these labs, classrooms, and libraries that surround us.
Emory faculty are the heart of our university and life-changing research is our heartbeat.
And that brings me back to why you are here tonight.
I want this campaign to reveal who we truly are at Emory—and what we can contribute—so that we can reach new heights.
If we boldly invest in student flourishing, faculty eminence, and research excellence, Emory will lead like never before.
With four years left in the campaign to achieve these goals, Emory is poised to make another quantum jump—unleashing our potential by empowering our people and elevating how we tell the Emory story to shape the future. 
With your partnership: 
Student success becomes student flourishing. 
Competing with the best becomes being the best.
Having a research breakthrough becomes having the research breakthrough that changes an entire field. 
With your commitment and your generosity, in 2036 we will be a research university without equal, in a class of our own. 
The future starts now at Emory—
The future starts with you!
Thank you.
Share This Story