One Emory: Ambition and Heart
---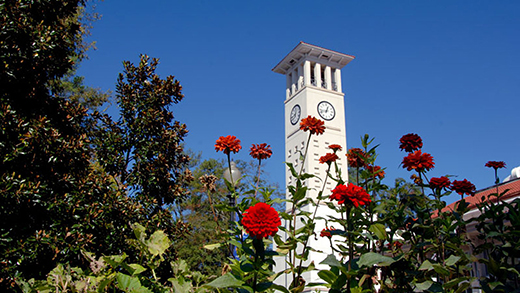 The following address was delivered by Emory President Gregory L. Fenves to the Emory community during Charter Week at the Emory Student Center.
Good afternoon!
I'm glad you could be here for this Charter Week gathering, and to everyone watching the livestream from Oxford College, welcome!
During the past few years, we've really missed out on this—getting together, being together at Emory.
I started at Emory during the first months of the pandemic, but now I'm seeing the exuberance and energy of this university every day: Wonderful Wednesdays, Songfest, Eagle Athletics, the Oxford Olympics—even the Lord of Misrule, Gregory L. Dooley. These are some of the traditions that are unique to Emory and make us who we are.
Who we are . . . That's something I've thought a lot about: What makes Emory unique?   
And as I met with inspiring students, dedicated staff, creative and visionary faculty, many of whom are here right now, I could see the answer. It begins with our mission and motto, core tenets that have shaped Emory for generations.
The Emory mission is: To create, preserve, teach, and apply knowledge in the service of humanity.
And the Emory motto is: The wise heart seeks knowledge.
Now you'll notice the word "knowledge" appears in both, and that's a reflection of what we do: educate and conduct breakthrough research.
But that's the case for all research universities. So, what makes Emory distinctive? What makes Emory . . . Emory?
You need to look deeper: "Create," "Apply," "Service," "Humanity," "Heart." These words say something else. They capture our ethos and the reasons why we generate and preserve knowledge; why we develop cures for devastating diseases; why we search for knowledge to inspire and spark connections with communities here in Atlanta and far beyond; why we nurture creative expression; and why we educate future leaders committed to giving back.
Ambition and Heart
I was at an alumni event last year, and as I talked about the Emory ethos, I spontaneously said: "It's a unique combination of ambition and heart." And those words felt right: ambition, the motivation to achieve; and heart, serving others through achievement. Ambition and heart—that's Emory.
In December, I took a trip to India with Bob Goddard, chair of the Emory University Board of Trustees, and Provost Ravi Bellamkonda, to meet with one of Emory's most well-known professors, His Holiness the Dalai Lama, Presidential Distinguished Professor.
At his monastery in Dharamsala, in the foothills of the Himalayas, we had an audience with His Holiness.
It was humbling to see him as he is—a person, a living, breathing individual now in his late 80s who has led an extraordinary life and changed the world.
His Holiness radiates peace, and his message was about compassion—that compassion must be a fundamental part of education if we are to heal the world.
The next day, we participated in a conference that was hosted by Emory's Center for Contemplative Science and Compassion-Based Ethics. And as I sat on stage next to His Holiness, I thought to myself that Emory brought us together; we are here because of Emory.
That is part of what makes Emory special, having a distinguished professor who is the embodiment of ambition and heart.
And I saw another example just last Thursday when we celebrated 20 years of the Donna and Marvin Schwartz Center for Performing Arts.
Carmel and I had the pleasure of hosting Donna and Marvin at a gala anniversary concert enveloped by the sound of Vivaldi's "The Four Seasons," performed by Anne-Sophie Mutter, one of the world's exceptional violinists. The evening celebrated virtuosity while demonstrating the profound heart of our alumni and friends who invest in Emory's mission.
So, every day that you learn, teach, create, work, or express yourself at Emory, know that you are a part of a university with ambition and heart.
I see Emory as a university that leads by doing, that doesn't wait for others to clear a path. But there is more to do before we realize our full potential—commitments to make and changes to embrace.
That brings me to my goal today, which is to talk about a strategy for Emory that identifies what we need to accomplish to live up to our mission.
Renewing the One Emory Framework
One Emory is a strategic framework that was released in 2018 by then-President Claire Sterk and Provost Dwight McBride.
It was built on a planning process overseen by the Emory Impact Committee, led by faculty and chaired by now-Dean of Laney Graduate School Kimberly Jacob Arriola. And much progress was made in its first two years. However, with leadership changes and the pandemic, the One Emory framework ended up in limbo.
Since joining Emory, I've listened to the views and perspectives of faculty, staff, students, alumni, and friends about their aspirations for the future and I've thought a lot about what success looks like for Emory and what is needed to achieve that success.
First and foremost: Emory must have strong schools that are on the cutting edge, leading and defining their disciplines.


We must reach a new level of recognition as a destination for undergraduate education, a first choice, a university that students across the nation and world are clamoring to attend.


We must continue to strengthen our outstanding academic health system, which serves communities in Atlanta, Georgia, and the Southeast by delivering patient-centered care while developing innovative treatments and cures; and educating the next generation of health-care professionals.


And it's time to recommit to our staff, who power our mission and Emory's partnerships with institutions and organizations across the Atlanta metro area.
This is my view of success at Emory, and it not only led me to think about One Emory, it informed the goals of the 2O36 Campaign, which we launched in fall 2021 on the Quad.
The 2O36 campaign is raising the resources to make Emory's success a reality. Thanks to many generous donors, the fundraising campaign has brought in $3.2 billion toward a $4 billion goal.
With two and half years to go in the campaign, Emory's benefactors are investing in our schools so they can thrive, with a special emphasis on endowed professorships and student scholarships.
So, as I talk about One Emory, keep in mind that the 2O36 campaign feeds directly into it; the two are inextricably linked.
The original One Emory plan had four parts. Moving forward, we will keep them all while renaming the first "Faculty Eminence," consistent with the ambitious goals for our faculty.
The fourth part was originally titled "Atlanta: Gateway to the World." Atlanta is that, but it's also our vibrant home. So, we'll now call it "Emory + Atlanta: Rich History, Shared Future," reflecting our connections with and responsibility to this remarkable city.
And, as discussed in several forums in recent months, I'm adding two new, essential parts that are foundational for Emory. They are:
"Thriving Health Care, Inventing Cures," which captures the impact and innovation of our world-renowned health sciences and health-care system; and


"Commitment to Our People," which emphasizes the central role of staff members and our commitment to them throughout their careers at Emory.
This is the renewed One Emory, which we will represent as a circle. Each part reinforces the others.
1. Faculty Eminence
Faculty Eminence is the foundation of Emory. Through their research, Emory faculty answer the great questions, seek knowledge, and serve society through their insights, discoveries, scholarship, and artistic creations. And they are the teachers who educate our students, shaping new generations of leaders.

To see our stellar faculty in action, look no further than this year's Distinguished Faculty Lecture, which will be given on the evening of February 7 by Dr. Colleen McBride, who has used public health strategies to empower marginalized communities.
At Emory, we will continue elevating the university through world-class faculty in some of the strongest schools and departments in the nation. How do we do this?
We need to recruit more top faculty while supporting current faculty because they understand that Emory is the best place for them to excel and express themselves as scholars and teachers.


We need to strengthen our commitment to diversity when it comes to recruitment and retention so that talented faculty of all backgrounds contribute their scholarship and perspectives. Provost Bellamkonda and I are working closely with Carol Henderson, vice provost for diversity and inclusion, on this effort using the DEI Strategic Planning Report to make long-overdue progress in supporting faculty diversity and many other areas that affect all aspects of a renewed One Emory.


And we need to put faculty at all levels in position to receive the honors, accolades, and opportunities they deserve—from national academy membership to prestigious awards and recognitions.
Faculty eminence enhances every school, enabling us to reach new heights.
2. Academic Community of Choice
The next part of One Emory, Academic Community of Choice, is about students—providing them with a distinctive education that is rigorous, life-changing, and tailored to their purpose at the undergraduate, graduate, and professional degree levels; preparing them for a lifetime of purpose and success in whatever they pursue after graduation.
One of our principal goals is to make Emory the first choice for undergraduate students. Emory has the potential to be an unrivaled destination for undergraduate education. And we are already seeing this in the increased number of applications and the talent of the classes on both the Atlanta and Oxford campuses. I want students to start and finish their degrees at Emory, as we reach for a 97% first-year retention rate by next year on the way to improving Emory's graduation rates.


There are many reasons why a student chooses their university, and I want prospective Emory students to see this as their ideal place for living and learning. That's why, under the leadership of Provost Bellamkonda in collaboration with the deans and Enku Gelaye, senior vice president and dean of campus life, we've introduced major initiatives for our students to flourish.



This includes the Pathways Center, led by Branden Grimmett, vice provost for career and professional development. The center enables students to explore fulfilling careers that match their talents, skills, and dreams.


And the Emory Purpose Project, which empowers students to find purpose, meaning, and connection through their academic and campus life experiences at Emory on both the Oxford and Atlanta campuses.


We're also prioritizing student health and well-being as a vital aspect of flourishing, reimagining courses such as ECS 101 and Health 100 to give first-year students a foundation both academically and personally.


And our inaugural leader for health, well-being, access, and prevention, James Raper, joined Emory last summer to support our students.



We want to welcome dynamic and diverse students who know this is their home.



This means building community—from expanding preorientation programs to the renovation and reimagining of student identity spaces and the establishment of the new Emory Interfaith Center, both of which will open in fall 2023.


It also means committing the resources to make an Emory education accessible to students with financial need. By eliminating need-based loans last year, which reduced debt for an additional 1,600 domestic undergraduate students in the fall semester, as well as ongoing efforts to raise endowment funding for student scholarships in the 2O36 Campaign, we are focused on affordability at Emory.



Nearly half of the students at Emory are in graduate and professional schools, and we are dedicated to enhancing their advanced education and making sure that Emory is the first choice for prospective graduate students. Among our initiatives is a new on-campus housing complex just for graduate students, now underway, which will add more than 500 beds.
In short, I want Emory to be a place for learning that gives as much to our students as our students give to us.
3. Innovation Through Scholarship and Creative Expression
Innovation Through Scholarship and Creative Expression is about the exceptional scholarly accomplishments taking place at Emory.
In every department and program, our faculty and researchers are leading their fields and disciplines. I want them to be bold, answer questions in new ways, and pioneer new approaches that attract the attention of colleagues and students on a global scale.  
Being innovative and inventive isn't an aspiration; it is an expectation at Emory.  
The extent of academic collaboration across Emory is already very impressive. And I want to see more of it with fewer barriers in the labs, libraries and collections, studios, and classrooms—because innovations come as the result of the crossing and blending of disciplinary boundaries.
And we will also invest in new areas of inquiry.
After years of effort by our faculty, the African American Studies department just launched a new PhD program, the first of its kind in the Southeast. At a research university, a top department means doctoral education. So, I'm glad we've started this program, and the African American Studies department will welcome its first cohort of doctoral students in the fall.


Recently, Provost Bellamkonda launched the Emory Climate Research Initiative, which brings together faculty across disciplines to advance climate-related research and teaching, identifying ways Emory can make unique contributions. Emory experts are already working in many areas of climate research, notably the intersection between public health and climate change, but I want to see the university engaged on this issue, which is one of the defining challenges of our era.


Another new area of inquiry at Emory is the AI.Humanity Initiative, also led by Provost Bellamkonda, which will harness the power of artificial intelligence and put it front and center in the fields of health, social justice, philosophy, business, law, literature, and the arts.


We want faculty and researchers to explore how we can benefit from the technological advances of AI in a way that is just and ethical. The plan is to hire between 60 and 75 faculty who will embed expertise in AI throughout the university as they break new ground in understanding and developing AI to solve human problems instead of causing them.


Another way we are supporting interdisciplinary collaboration is also being led by the provost, who will soon announce the Arts and Humanistic Inquiry Initiative. It will bring together scholars from the humanities, social sciences, theology, social justice, and the arts to explore the human experience. And we'll hire 20 or more additional faculty across the schools to provide insights and expression that will illuminate our world in new and profound ways.
For research areas, such as the sciences, where extramural funding is available, Emory has broken research funding records during the past two years. Building on this, I know our researchers can generate even more to power their ideas. And during the next four years, I want to support faculty and researchers as they increase annual research expenditures from the current $790 million to $1 billion, providing more groundbreaking discoveries that benefit society.
4. Thriving Health Care, Inventing Cures
The fourth part of One Emory, Thriving Health Care, Inventing Cures, is about our world-renowned health and health-care mission.
The Woodruff Health Sciences Center serves in unparalleled ways through its education, research, and clinical care.
The pandemic has demonstrated this: from frontline medical staff, physicians, and nurses to the scientists who developed new treatments and evaluated everything from the vaccines to COVID-19 tests.
And the closure of the Atlanta Medical Center last year created another health crisis for our city. Emory Healthcare mobilized quickly to provide care for many additional patients at Emory University Hospital Midtown and through our partnership with Grady Memorial Hospital.
And I'm excited about the future because Dr. Ravi Thadhani is an incredible new leader who joined Emory last month as executive vice president for health affairs, executive director of the Woodruff Health Sciences Center, and vice chair of the Emory Healthcare Board of Directors. Dr. Thadhani comes to us from Mass General Brigham and Harvard Medical School. He has had a stellar 30-year career in delivering the highest-quality health care, advancing biomedical research, training health professionals, and serving communities with public health solutions.
The nation is facing a range of tough issues in health care, from barriers to access and rising costs to labor-force shortages—especially in nursing—along with a multitude of financial challenges. But we will rise to meet the moment.  
And Dr. Thadhani is setting goals for health sciences and health care at Emory to get us there, which will include:
Emory Healthcare providing the best standard of care in Georgia and the Southeast as well as the best experimental care medicine has to offer, led by our innovative physicians.


Furthering the advances at the Winship Cancer Institute, which is a national leader in cancer care and research, accelerated by the opening of the state-of-the-art Winship tower at Emory Midtown later this year. It will bring teams of physicians, nurses, and staff together to provide personalized care for patients and support for their families through the Winship Way.


Continuing to make advancements as a trailblazer for brain health through the research and care of patients in the Emory Brain Health Center.


And becoming one of the most innovative academic centers for life-saving drugs—from basic research and increasing clinical trials to translating discoveries into treatments through a proven development model that resulted in the COVID-19 drug molnupiravir.
These are just a few of the goals for the health sciences and health care. We are going to set the bar even higher in the years to come.
5. Commitment to Our People
The next piece of One Emory, Commitment to Our People, is crucial. Staff make everything at Emory possible. And they must be a part of One Emory, so we're adding this as a focus area.
And this name says it all. I want Emory to be a place where every staff member is included and contributes to our mission. Nothing can be accomplished without a talented and dedicated staff, and this is the case especially with a competitive job market and an uncertain economy.
I also want Emory—as the largest private employer in Atlanta—to be the employer of choice.
Some elements include:
Cultivating an environment of respect, inclusion, and well-being that allows each staff member to excel in their job. 


Striving to provide competitive, equitable compensation and benefits, which includes planning for a 4% merit pool for Emory University employees in fiscal year 2024 pending final approval of the university budget.


Recruiting diverse and talented staff members who represent a wide range of backgrounds, experiences, and perspectives.


Recognizing and supporting staff members' lives outside of their Emory jobs. An example of this is the recent doubling of paid parental leave for Emory University employees from three to six weeks.


Offering opportunities across the university for staff members who want to advance in their careers at Emory.


Encouraging new ideas and creativity and celebrating staff achievements and successes.
In summary, I want staff to know they are valued and that there are opportunities for growth so that Emory isn't one entry on your LinkedIn. Rather, it is the place where you can build a fulfilling career.
6. Emory + Atlanta: Rich History, Shared Future
The sixth piece of One Emory, Emory + Atlanta: Rich History, Shared Future, concerns our hometown, Atlanta.
Emory is a global research university, but we also have a responsibility to Atlanta, DeKalb County, and the entire metro region.
Atlanta is a destination for students, faculty, and staff. That was true for Carmel and me. Being able to live in this vibrant, growing, and diverse city was a big factor in our decision to come to Emory.
And as we look ahead to Emory's future in Atlanta, we must also recognize our shared past. This city is a foundational part of America's civil rights history as well as a leader in the ongoing fight for racial equity and social justice. It also nurtures the arts, music, film, literature, and all manner of creative expression.
Atlanta is also an education town. With Georgia Tech, Georgia State, and Emory, Atlanta is one of the few cities in the country with three major research universities. And with Morehouse College, Spelman College, Clark Atlanta University, and the Morehouse School of Medicine, Atlanta is the hub for historically black colleges and universities, all located within 10 miles from here.
But our city is facing many challenges, and Emory can help address them through our education, health care, research, and service missions.
I am impressed by the breadth of engagement of Emory faculty, students, and staff in the Atlanta community. Please keep it up!  
I want people to collaborate on projects like our new partnership with Midtown Alliance on their artist-in-residence program where we are providing studio space in storefronts near Emory Midtown Hospital.
And please use Emory Open, which is overseen by the Office of Government and Community Affairs, as you seek engagement opportunities, coordinate activities, and track how Emory is serving our communities.
In shaping Emory's role in Atlanta, we can
Expand on the accomplishments of the brilliant students I recently met in the Center for Community and Civic Engagement who are building capacity for communities in Atlanta as well as the efforts of so many faculty and staff who are contributing to wonderful projects across the city.


Strengthen our partnerships with the Atlanta University Center (AUC) by enhancing pathways to graduate school here at Emory for AUC graduates. At Goizueta Business School, the Rosemary and John Brown family generously established a $5 million scholarship endowment for Spelman College alums as well as graduates of Agnes Scott College to increase graduate business enrollment for women. And I want to see more pathway programs with the AUC take hold at Emory.


Emory can invest in wealth-creation programs, leveraging our institution to spark economic mobility. This will build on efforts that are already underway, including our participation as a founding member of ATL Action for Racial Equity, an initiative led by the Metro Atlanta Chamber that has inspired and united our efforts at Emory, including:


Becoming a University Without Peer
To sum up, there are six focus areas that represent the breadth and depth of One Emory:
Faculty Eminence
Academic Community of Choice
Innovation through Scholarship and Creative Expression
Thriving Health Care, Inventing Cures
Commitment to Our People
Emory + Atlanta: Rich History, Shared Future
With strong schools that are poised to reach new heights as talented students from across the nation and world choose Emory . . .
A faculty unmatched in the creation of bold research and artistic expression . . .
A thriving health care system . . .
And a commitment to our staff and our city . . .
We can truly be One Emory.
When we launched the 2O36 Campaign, I said that Emory could be a university without peer by the time of our bicentennial. By making bold decisions and stepping up to lead, we will make that happen—and we are already on the way!
Thank you for your dedication to Emory.
Share This Story